Construction Recruiting Specialists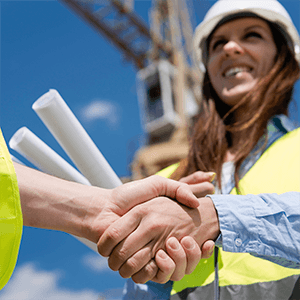 No one understands the unique needs of the Chicago construction industry like DK Cole. The team has worked with countless Chicago-area companies, business owners & management, connecting the dots and forging long-term relationships that don't just get the job done but, instead, ensure long-term success, innovation and workplace satisfaction.
Our Proven Construction Recruiting Process
Leveraging its signature six-step recruitment process as well as a deep understanding of your industry and your business, DK Cole sources, vets and interviews high quality candidates specific to the criteria they develop with you. Your DK Cole team takes the time to get to know you, your workflows, your expectations and your unique culture, so every recruit makes sense — and every new hire adds value.
Streamlining Your Recruitment Workflow
Whether its C-level talent, middle management, operations roles, like project managers, or accountants and more, DK Cole has the access and insights to find and present you with the optimal candidates for your organization. No more weeding through massive numbers resumes and no more exhaustive screening processes — just a quick, simple and streamlined system to source, recruit and hire the right candidates at the right time.